Welcome to the Book Club Corner! The Book Club Corner was created as a place where we can share fiction and non-fiction book recommendations that have a diversity, equity, and inclusion focus. These books have been read by our staff and we believe they are informative, inspiring, and useful. Each month, we will share a book intended to support your on your DEI journey. Happy reading!
September 2023
Image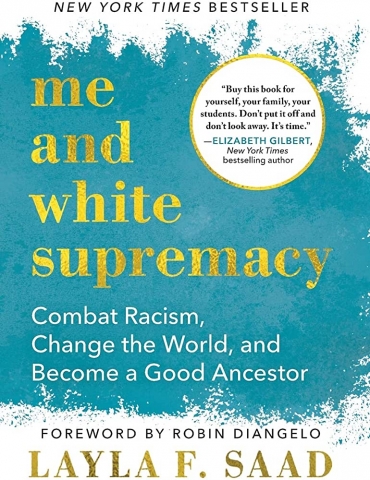 September's book is Me and White Supremacy by Layla F. Saad.
According to Goodreads, "Me and White Supremacy teaches readers how to dismantle the privilege within themselves so that they can stop (often unconsciously) inflicting damage on people of color, and in turn, help other white people do better, too.
"When Layla Saad began an Instagram challenge called #MeAndWhiteSupremacy, she never predicted it would spread as widely as it did. She encouraged people to own up and share their racist behaviors, big and small. She was looking for truth, and she got it. Thousands of people participated in the challenge, and over 90,000 people downloaded the Me and White Supremacy Workbook.
"Awareness leads to action, and action leads to change. The numbers show that readers are ready to do this work - let's give it to them."
About the Author
Layla Saad is a globally respected writer, speaker, and podcast host on the topics of race, identity, leadership, personal transformation, and social change.
As an East African, Arab, British, Black, Muslim woman who was born and grew up in the West, and lives in the Middle East, Saad has always sat at a unique intersection of identities from which she is able to draw rich and intriguing perspectives. Saad's work is driven by her powerful desire to become a good ancestor; to live and work in ways that leave a legacy of healing and liberation for those who will come after she is gone.
As you read...
If you would be more comfortable reading and processing this work as part of an in-person book group, Saad has laid out directions for how to do this in the appendix.
After you've finished reading...
Now what? Saad offers several ideas for how you can continue to dismantle white supremacy and become a good ancestor beyond the final pages of this book.