Dolly Parton's Imagination Library Celebrates
200 Millionth Book Milestone
Dolly Parton's Imagination Library is turning over a new chapter in The Imagination Library legacy - celebrating 200 million books gifted globally since inception in 1995. The early childhood book-gifting program mails a high-quality, free book each month to children from birth to age five. United Way of Clallam County is excited to celebrate with every family enrolled locally. In December 2020, United Way of Clallam County partnered with North Olympic Library Foundation and North Olympic Library System to start a local affiliate of the Dolly Party Imagination Library. The project was started with two years of seed money but gained so much popularity that United Way began fundraising to meet local demand.
To celebrate this global 200 million book milestone, seven enchanting Dolly bookmarks will be randomly hidden inside Imagination Library books gifted during International Literacy Month (September) to children currently enrolled in the program.*
*Children must be enrolled by July 31, 2023 to receive Imagination Library books in September.
Image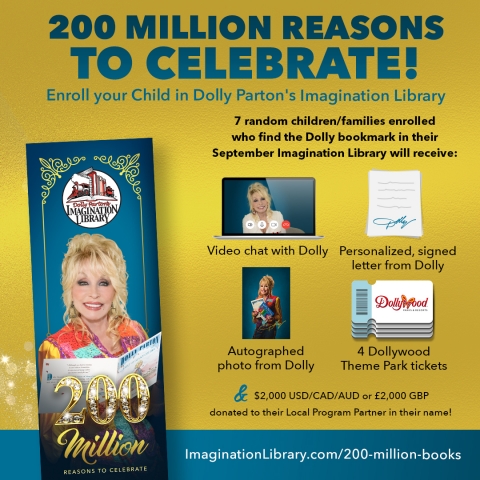 Seven random children/families in five countries who find the Dolly bookmarks in their Imagination Library books will receive, if they choose, a video chat with Dolly, a personalized signed letter from Dolly, an autographed photo from Dolly, and four Dollywood Theme Park tickets. The Dollywood Foundation will also donate $2,000 on behalf of the child to their Local Imagination Library Partner in their community as a thank you to those who Dolly calls the true heroes of her program.
---
Enroll Your Child in Dolly's Imagination Library
Click below to enroll your child in Dolly Parton's Imagination Library. Participation in the program is absolutely free and open to all children in Clallam County from birth to age five. Participating in 200 Million Reasons to Celebrate is voluntary and does not affect enrollment in Dolly Parton's Imagination Library. All children under five years of age who are actively enrolled in Dolly Parton's Imagination Library by July 31, 2023, can participate. To learn more, visit https://imaginationlibrary.com/200-million-books/.
Meet Mary
Our Development Director Jaycie Wakefield signed her daughter, Mary, up for the Imagination Library when Mary was 2 and a half. Jaycie shares, "Book time is a big deal in our house. Mary has a lot of hand-me-down books from her big brother but she feels extra special each month when she gets to add a new book from Dolly to her bookshelf. When that book arrives in the mail you would think that someone had won the lottery at our house! Mary runs around with her new book ready to rip it open and read it! When I read aloud to Mary, we are not only creating a lasting, loving emotional connection but it's also stimulating her big imagination and is helping her develop language and listening skills."
Mary's perspective is straight to the point, "I'm Mary and I'm three.... I love reading. Thank you for my books [giggles]. I love books!"
Image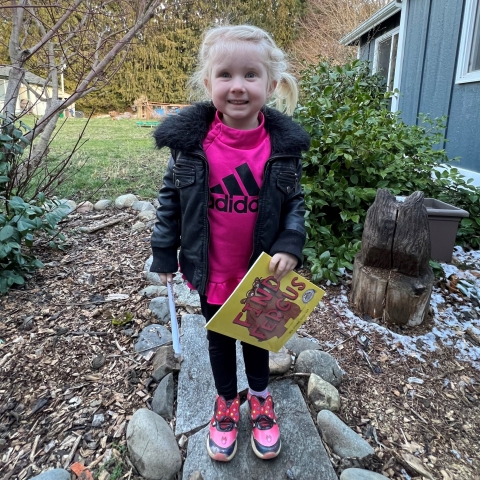 ---
Support Dolly's Imagination Library in Clallam County
For just $25 per year, you can sponsor a child in Clallam County and spark their curiosity for learning. Consider sponsoring two children for $50 or four for $100. You will be making a huge impact in the lives of our community's children. Click the donate button below and type "Dolly" in the donation field titled Optional - Other instructions for my donation.
Dolly's Story
Inspired by her father's inability to read and write, Dolly started the Imagination Library in 1995 to serve the children of her hometown in Sevier County, Tennessee. Today, her program spans five countries and gifts over 2.4 million free, high-quality, age-appropriate books each month to children around the world. There is never a charge to families who participate in the program and it is open to all children under the age of five in geographic areas with operating programs.
"I know there are children in communities around the world with big dreams and the seeds of these dreams are often found in books," said Dolly. "It's been one of my greatest gifts in life to help instill a love of reading through my Imagination Library. Reaching 200 million books worldwide is a major milestone that I'm so very proud of, and I want to thank all of our local program partners, funders and supporters from the bottom of my heart. But we're just getting warmed up, we have so much more to do! Together, we can inspire even more children to dream more, learn more, care more and be more."
About Dolly Parton's Imagination Library
Since launching in 1995, Dolly Parton's Imagination Library has become the premier early childhood book gifting program in the world. The flagship program of The Dollywood Foundation has mailed well over 200 million free books in the USA, Canada, United Kingdom, Australia and the Republic of Ireland. The Imagination Library mails more than two million high-quality, age-appropriate books each month to registered children from birth to age five. Dolly envisioned creating a lifelong love of reading, inspiring children to dream. The impact of the program has been widely researched and results suggest positive increases in key early childhood literacy metrics. Penguin Random House is the exclusive publisher for Dolly Parton's Imagination Library. For mrore information, please visit https://imaginationlibrary.com/.
---