< Clallam Resilience Project Home
Welcome!
In the first video of the series, learn about the Take Care & Be Well tiny videos. This community-led project explores different resilience skills that community members are already using, and provides opportunities to learn new ones as well. Developing resilience is an important way to mitigate the impacts of childhood and adult trauma. 

*This project is inspired by the Quileute Tribe's New Beginnings Program,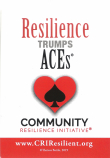 and the Community Resilience Initiatives deck of Building Block deck of cards.  

   Subscribe to our YouTube channel to see the full Take Care & Be Well playlist. 
To view and share our Spanish-language videos visit our Cuídate & Estar Sano playlist here.
---
New! Making Thoughtful Choices
Bob Vreeland
2:36
New! Developing Positive Relationships
Youth Intern, Georgia Bullard
2:05
New! Verbally Saying "I Love You"
Cherie Kidd
3:25
New! Developing Positive Relationships
Miss Ann Penn-Charles and Larry Jackson
5:59
New! Developing the Ability to Calm Oneself
Kristin Halberg
5:57
New! Allowing the Experience of Success or Failure
Jenny Houston
5:58
Developing the Ability to Calm Oneself
Shawnda and Molly Hicks
4:04
Giving Back to the Community
Rachel Anderson
3:52
Creating Belonging
Minnie Whalen
2:29
Developing Trust
Benji Astrachan
1:34
Connecting With Others (Through Laughter)
Danielle Orloff and Rachel Hardies
2:44
Appreciating Ethnic & Cultural Heritage (Part 1)
Gayla Johnson
5:38
Appreciating Ethnic & Cultural Heritage (Part 2)
Gayla Johnson
3:53
Attachment to a Caring Adult (or animal!)
Cindy Myers
2:26
Developing Hope
Dina Geiszler
4:14
Feeling Empowered to Ask Questions & Share Ideas
Mark Ozias
2:57
Practicing Self-Discipline
Denise Banker
6:52
Learning to Problem Solve & Make Decisions
Mabel Thackeray
4:14
Developing Hope
Sandra Velasquez, Forks
2:25
Having Family Meetings
Mabel Thackeray, Quillayute Valley School District
2:52
Making Thoughtful Choices
Carmen Geyer, United Way of Clallam County
1:58
Developing a Sense of Control
Krista Hanan, First Step Family Support Center
2:48
Allowing the Experience of Success and Failure
Denise Banker, Jefferson County Health Dept
6:12
Showing Empathy
Bonnie Schmidt, Nurturing Families LLC
5:59
Developing Critical Thinking Skills
Denise Banker, Jefferson County Health Dept
6:06
Making Thoughtful Choices
Mel Melmed, Olympic Community of Health
2:44
Practicing Self-Discipline
Mark Ozias, Clallam County
3:00
 Learning to Show Appreciation
Sarah Salazar-Tipton
4:53
Allowing the Experience of Success or Failure
Denise Banker, Jefferson County Health Dept
6:11
Showing Empathy
Mabel Thackeray, Quillayute Valley School District
4:41
Mastering a Skill
Melanie Greer, WSU Extension 4-H
3:13
Developing the Ability to Calm Oneself
Allison Berry Unthank, Clallam County Health Dept
4:07
Appreciating Cultural and Ethnic Heritage
Mabel Thackeray, Quillayute Valley School District
2:22 min
Showing Appreciation
Kaelan Gilman, Clallam Resilience Project
1:09 min
Learning to Accept Help
Bonnie Schmidt, Nurturing Families LLC
3:55 min
Developing a Sense of Control
Denise Banker, Jefferson County Health Dept
4:52 min
Developing the Ability to Calm Oneself
Minnie Whalen, Clallam Resilience Project
3:37 min