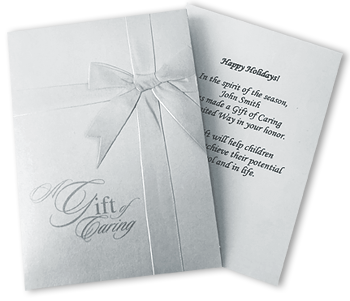 CREATE A SPECIAL DAY, MAKE A DIFFERENCE ALL YEAR.
GIVE A GIFT OF CARING.
Looking for a meaningful holiday gift? Want to recognize someone special, commemorate a milestone or celebrate a loved one? Multiply the power of your giving with a United Way Gift of Caring.
Once your gift is received, United Way will send a greeting card to the honoree or family, letting them know that you have made a contribution in their honor to help someone in need. Your gift makes a powerful investment in Clallam County by supporting programs focused on improving education, financial stability and health – the building blocks for a good life.
Your Gift of Caring through United Way is more than a contribution; you are helping our community in honor of someone special – and it's all because you care.