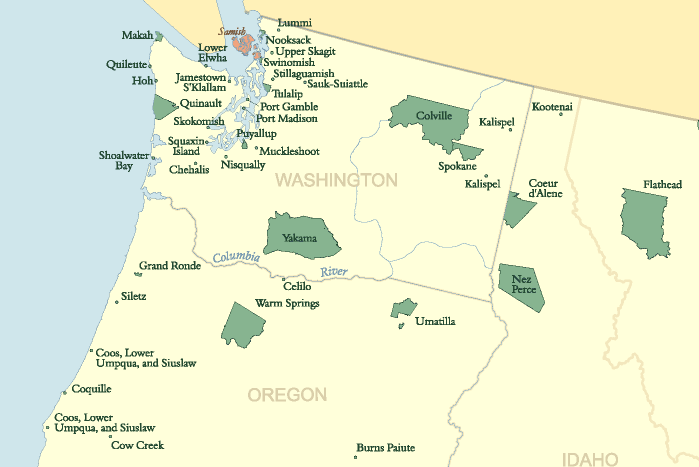 ACKNOWLEDGEMENT
United Way of Clallam County acknowledges that the communities we work in are the homelands and territories of the chalá·at (Hoh), qʷidiččaʔa·tx̌ (Makah), kʷoʔlí·yot' (Quileute), t͡ʃə́mqəm (Chimacum), nəxʷsƛ̕áy̕əm̕  (Jamestown S'Klallam), and nəxʷsƛ̕áy̕əm̕ (Lower Elwha Klallam) peoples.
We acknowledge our responsibility to establish and maintain relationships with the tribes and Native peoples of this region, in support of tribal sovereignty, and the inclusion of tribal voices in our programs and services.
We express our deepest respect and gratitude for our indigenous neighbors and leaders for their enduring care and protection of our shared lands and waterways.
TRIBES OF CLALLAM COUNTY
The links below will take you to history and information about the tribes that are indigenous to Clallam County.
IDENTIFY THE INDIGENOUS LANDS YOU'RE ON
This Native Land map will show you many of the tribes that are indigenous to your area.
LEARNING AND UNLEARNING: RECOMMENDED RESOURCES 
The second Monday in October is Indigenous Peoples' Day. It is a celebration of Native American peoples' history and cultures and began as an intentional effort to reject the federal holiday of Columbus Day, replacing that false narrative of discovery with the truth of the violent history of colonization, and instead honoring all indigenous peoples. Read Rethinking How We Celebrate American History.
November is Native American Heritage Month. Learn more from this resource list from the Burke Museum.
Explore the Racial Justice Guide to Thanksgiving for Educators and Families from the Center for Racial Justice in Education.
Questions or Comments?
The history of native peoples in the United States is long and complex. The information on this page is by no means complete but is a step towards being a better neighbor to native communities.
We welcome conversation, additions, and/or corrections to the content on this page. Please contact us at info@unitedwayclallam.org with questions or comments.